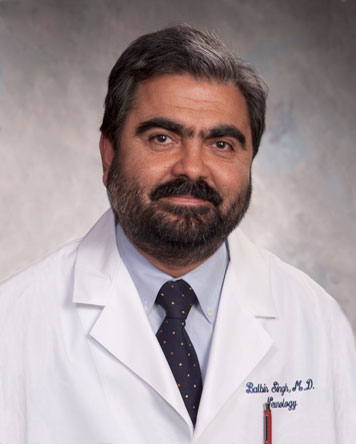 Board Certified in Neurology with added qualifications in Child Neurology and Neurophysiology
Sri Guru Gobind Singh College, B.S., 1971
Government Medical College, Patiala India, MBBS, 1976
Residencies and Senior Residencies in Pediatrics, 1981 – 1985
Residency in Pediatric Neurology, 1985-1988
Epilepsy and EEG Fellowship, 1988-1989
Board Certified, Psychiatry and Neurology with Special Qualification in Child Neurology, 1990
Board Certified, Psychiatry and Neurology with Added Qualification in Clinical Neurophysiology, 1996
Clinical Practice 1997 – Present
Language: English, Hindi, Punjabi, Urdu
After completing his medical training in India, Dr. Singh moved to England for higher education. He was able to accomplish his goal of becoming a member of the Royal College of Physicians (MRCP) in just over a year (rather than the usual three or more years). To fulfill his dream of specializing in neurology, he joined the Neurology Residency Program at Southwestern Medical Center, Dallas. After completing residency training, he did a Fellowship in Epilepsy and Neurophysiology at the University of Minnesota, Minneapolis, MN. Before starting his practice in Northwest Houston, he held a faculty position in the Department of Neurology at the Southwestern Medical School, Dallas. Although he did an outstanding job in that position and was awarded the Best Teacher Award, his heart was always in hands-on patient care, and in 1997 he moved to Spring, Texas and founded his private medical practice: Northwest Houston Neurology. Over the last 24 years practicing in the area, NWHN has grown considerably, eventually adding Adrian Santamaria, MD in 2008, and thus bringing comprehensive sleep medicine to the practice. In 2015, Preethi Durgam, DO, joined and enriched the practice with her passion for epilepsy research.
During his academic years, Dr. Singh's research was published in national and international medical journals. He was also invited to present his research in many national and international medical meetings. He is board certified by the American Board of Neurology and Psychiatry. He is board certified in Neurology with a special qualification in Child Neurology.
Dr. Singh and his wife, pediatrician Dr. Poonam Singh, live in Spring and have two adult daughters, both of whom also have careers in medicine. In his spare time, he enjoys travel and gardening.